At IV Rehydrate, we believe in the power of nourishment and hydration delivered to your body's cellular level. Our devoted team of experts is driven by a passionate mission to rejuvenate your health and replenish your hydration levels through our IV hydration treatments.
Our source of strength is our team, which comprises medical professionals who are always ready to make your life easy. IV Rehydrate is not just another average hydration company; we are your partners for the best health and wellness.
Our Team
We are proud of our team at IV Rehydrate, which includes a diverse set of experienced medical professionals. Through our team, we offer a robust blend of practical skills, medical knowledge, and a sincere commitment to your health.
Our high-quality medical equipment reflects our complete dedication to excellence. Remember: as a mobile service, we bring you the best personnel and equipment to your doorstep.
How It Works
Here comes the main question: how does the rehydration process work? It's quite simple — just five steps, and you're done!
Book Your Appointment
Unlike others with complicated booking procedures, we have made it easy for you. You can set an appointment that works well with your schedule through our online booking system.
Whether it's early morning or at night, during workdays, or at the weekend, you can go for a time that suits your convenience. Plus, you can choose a location that works best for you, such as your office, home, or even a hotel.
The level of flexibility we offer ensures that your daily routine does not get disturbed, and you can boost your energy levels at any time.
Clinician Deployment
When your appointment is confirmed, we immediately mobilize our expert clinicians. They will be dispatched to your desired location with all the needed medical supplies.
Our clinicians, with their extensive expertise, are fully prepared to accommodate your hydration and health needs.
Treatment Fulfillment
Our clinicians perform the IV hydration treatment with high precision and expertise. From the initial setup to the final stages of the treatment, our clinicians ensure that you are at ease and feel comfortable at all times.
Our treatment process includes replenishing your body's hydration levels directly through your veins, making it one of the most effective methods of delivering nutrients. It can help you recover from different conditions, including dehydration, vitamin deficiencies, and fatigue.
When your treatment is completed, you'll experience a boost in your energy levels. Our IV hydration treatment will invigorate your body and replenish your energy levels, helping you tackle the rest of your day with the highest energy levels.
But that's not all. Your improved hydration levels will also improve your body's natural healing and detoxification processes. This helps to improve your health and well-being in the long term.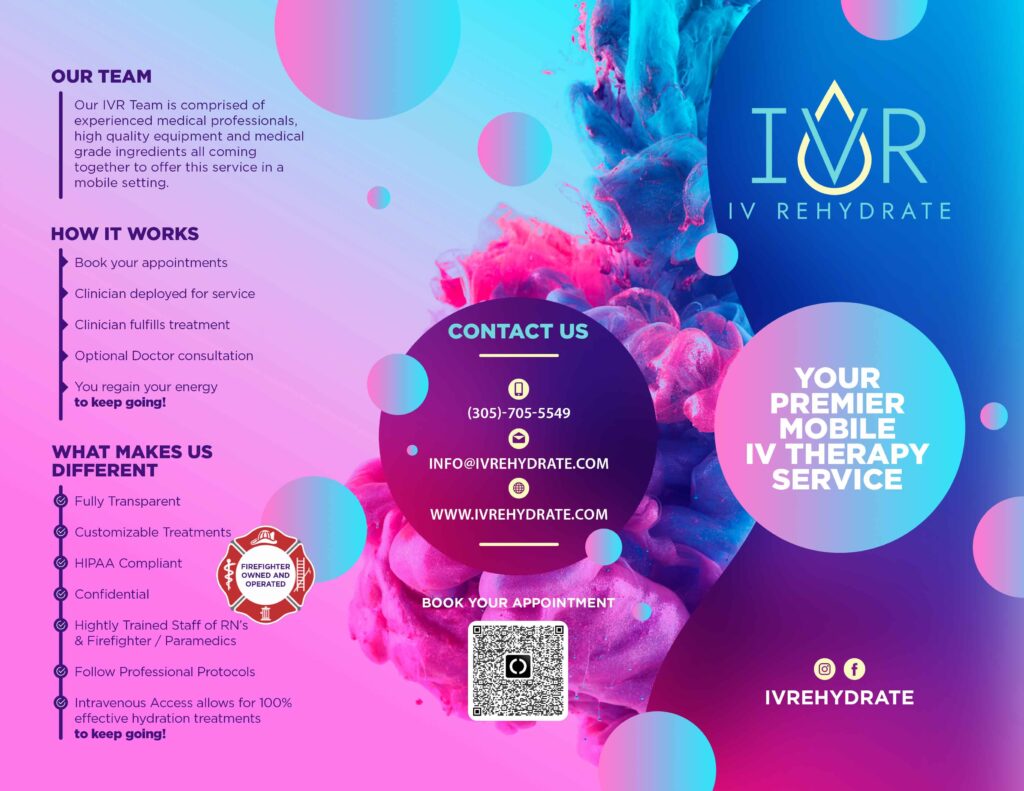 What Makes Us Different?
Our commitment to accommodate your hydration needs while addressing your concerns sets us apart from others. Let's look at some factors that make IV Rehydrate different from others:
Fully Transparent
Many companies may provide IV hydration services, but only some keep their operations completely transparent. At IV Rehydrate, the procedures and ingredients we use in our treatments are fully disclosed to you at every stage.
We are open about the techniques behind our methods, and we encourage you to ask questions about your care. This is because when you are better informed, you are a more knowledgeable patient who knows how our treatment can improve your well-being.
Customizable Treatments
As a patient, we understand that you may have different and unique health needs. For this reason, we provide you with personalized and customizable treatments.
In our consultation meeting, we intend to discuss with you and learn more about your health history and the goals you expect from our treatment.
Our treatment can only be effective once we fully know you. So, we involve you in every decision each step of the way.
HIPPA Compliant
We know that your data is private and that it can fall into the wrong hands. That's why HIPAA compliance is the foundation of our company.
Along with your information and records, this also applies to conversations with you, such as during our consultation meetings. We have implemented robust security measures to protect your data while limiting access to your medical and personal information.
Professional Protocols
At IV Rehydrate, we are fully devoted to ensuring that you receive the best treatment that meets and exceeds the best and highest standards.
100% Effective Hydration Treatments
Delivering a shot of hydration to your bloodstream while ensuring maximum absorption, our treatments are 100% effective. And because of that, they immediately take care of dehydration and increase your energy levels at the same time.
Plus, we keep updating our methods and adapting to the latest medical research to provide you with the best possible care. So, you always get the best.
Click Here to book with us today!
Hi There! We are an efficient team of medical professionals that are ready to help you with all of your IV therapy, chelation, phlebotomy and EBO2 needs.
We are happy to provide you or your patients with mobile services and look forward to working with you.